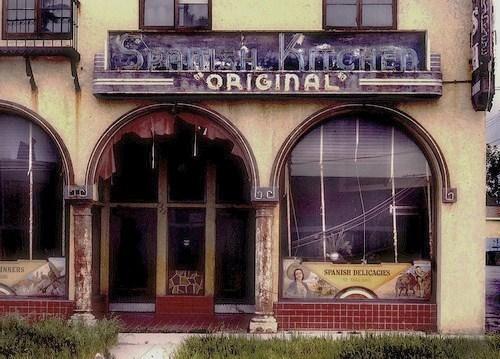 The doors closed at 7373 Beverly Boulevard, Los Angeles in the late summer of 1961, and on the glass there was a sign posted that read: "Closed for vacation. Be back August 23d." But that date came and went. The place settings remained on the tables and a pot of the Original Spanish Kitchen's famous enchilada sauce was still on the heavy commercial stove.
The Kitchen had been popular since its opening in 1932; many stars including Bob Hope, John Barrymore and Mary Pickford dropped by regularly. Founder John Caretto not only served food that people came back for; they enjoyed his warmth and humanity even more. So he and his restaurant were missed in the waning months of 1961, in a sprawling city with many hundreds of other places, some much more famous and certainly more tony.
With no explanation from John's widow and co-owner Pearl forthcoming, the mystery grew and so did the rumors, especially after an article appeared in the
L.A. Times
. A story on TV's
Lou Grant Show
was based on the closed and untouched restaurant, which added an angle involving murder of the owners, who lived upstairs.
Writer Don Ray, doing extensive research for a 1986 article in
Tables
magazine, eventually found out what had happened, and why, despite Pearl and her daughter refusing to talk about it. The daughter, living in Phoenix, did drop enough hints so the long story could be brought to light.
When John's Parkinson's disease finally prevented him from going on after three busy decades, Pearl attempted to keep the Kitchen open for a while and simultaneously take of her husband upstairs. She did believe the closing would be temporary, and John would recover enough to go back to work. That is why she kept it ready, even after he died in 1967. Pearl never considered a possible new operator, who might "change any thing in what had been Johnny's whole life." That was the only statement Mr. Ray teased out of Pearl's daughter, but it was the only explanation needed.
A beauty salon and spa opened in the building in 2005 after Pearl was gone (she had remained upstairs as somewhat of a recluse since 1961), and the iconic sign was defaced by covering up all its letters except S P A.
***
There's enough weirdness in L.A., even just in the restaurant business, to keep us busy here for a while. If you want to take a look, writer Mark Evanier's blog
www.oldlarestaurants.com
is a delightful treasure trove. A good example: the Quality Cafe, which stayed open after it stopped serving customers in 2006. It has a new and very busy ghost life as a set in more TV shows and movies than anyone can name. People recognize the seats, counter, napkin holders and coffee cups, seen in such shows as
Mad Men
and
CSI:NY
(despite it being a West Coast diner!) as well as movies --
Million Dollar
Baby, Se7en, Mr. & Mrs. Smith, Catch Me If You Can, Gone in 60 Seconds
and many more.
Only in L.A...